Low-Income Housing: Antioch, Oakland
7th and I Sts., Antioch Map
Ironhorse Apartments, 1801 14th St., Oakland. Map
Lion Creek Crossings, 881 69th Ave., Oakland Map
West Rivertown Phase II is 40 units of low-income housing built in 2007 in burgeoning Antioch's old town near the Sacramento-San Joaquin Delta.
Below, interior parking lot drains to drought-tolerant landscaping. Cobbles prevent erosion.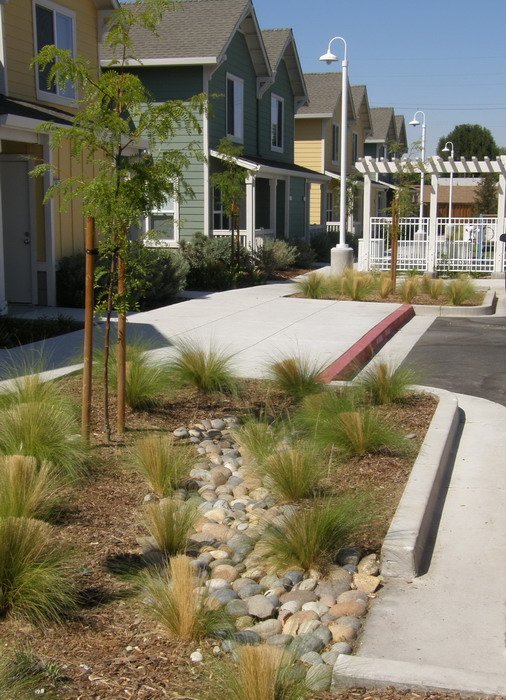 Below left, roofs, like parking, drain to drought-tolerant landscaping. These landscaped areas have both buried underdrains and surface drains (shown). Light rains soak in and are filtered. In large storms, heavy flows go to storm drain pipes.
Below right, grating covers a swale where it continues under a sidewalk.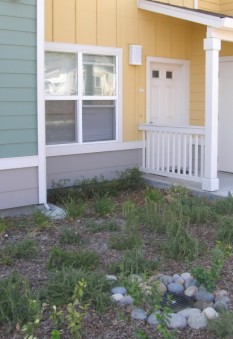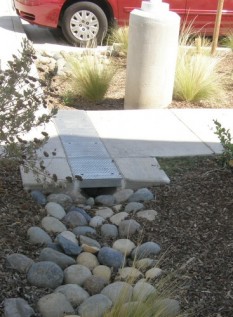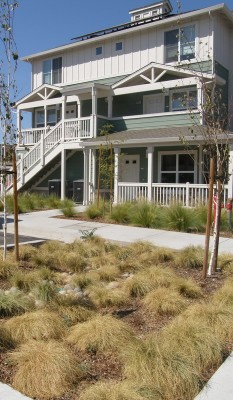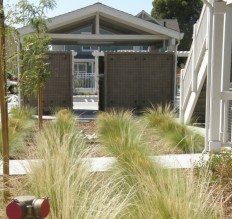 Left, apartments at the project's main entrance use landscaping to filter runoff.
Above right, a covered trash enclosure is plumbed to drain to the sanitary sewer. This helps keep pollution from trash containers out of the nearby Sacramento River.
Below, Ironhorse Apartments provide affordable housing near Oakland's historic but abandoned train station. Community gardens raised in tubs, as well as a swale filtering roof runoff, edge the garage level and a walkway separating Iron Horse from more-expensive condominiums.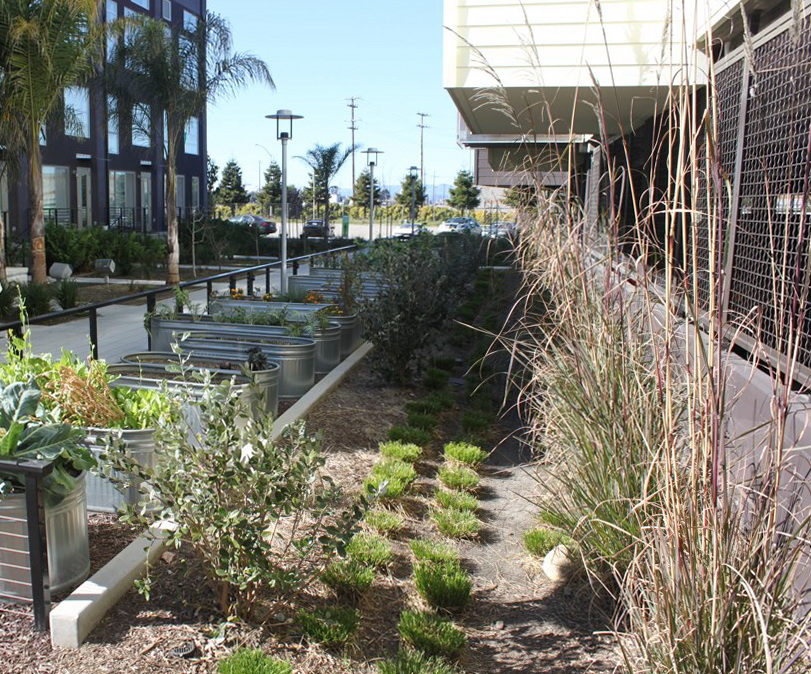 The 99-unit complex has two green roofs, both planted with low, drought-tolerant native plants that require little maintenance. Left, the smaller roof, over an office, looks toward the train station (which is to be restored someday). Above, the green roof over a community room faces the courtyard.
Below, click images for larger views of swales edging two sides of the building and a historic rail cart that echoes the area's past. Landscaping is "Bay-friendly — drought-tolerant and unlikely to need chemicals.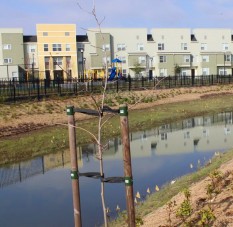 Left, Coliseum Gardens, a 1964 low-income housing project south of the Oakland Coliseum, was rebuilt and renamed Lion Creek Crossings. Within the complex, Leona (Lion) Creek was freed to flow in a newly naturalized channel alongside the concrete channel that had long confined the creek.
Below, shallow swales help keep runoff and pollution out of the concrete channel and creek downstream.