Infill housing, Clayton, Pittsburg, Walnut Creek
High Street at Oak, Clayton Map
225 Freed Ave., Pittsburg. Map
Paulson Lane, Walnut Creek Map
At Mitchell Creek Place in Clayton, nine closely spaced homes face the small, cowtown-themed city center. Roofs drain to flow-through planters which in turn drain to slightly sunken planting beds along the street. Most runoff filters into soil. Below left, a drain that prevents overflows and a cleanout for the buried underdrain in one of these sunken beds.
Right above, a swale treats runoff from the parking area behind the homes. The shared driveway reduces the overall amount of paving. Right below, rocks check flow in a swale with a greater-than- usual slope. Water must move slowly in order to be filtered and soak in — and to prevent erosion.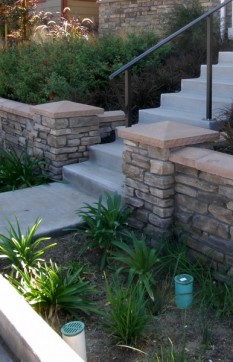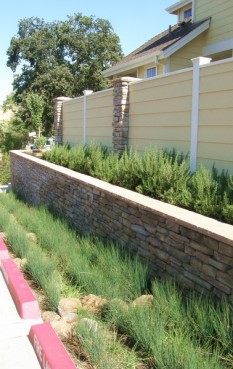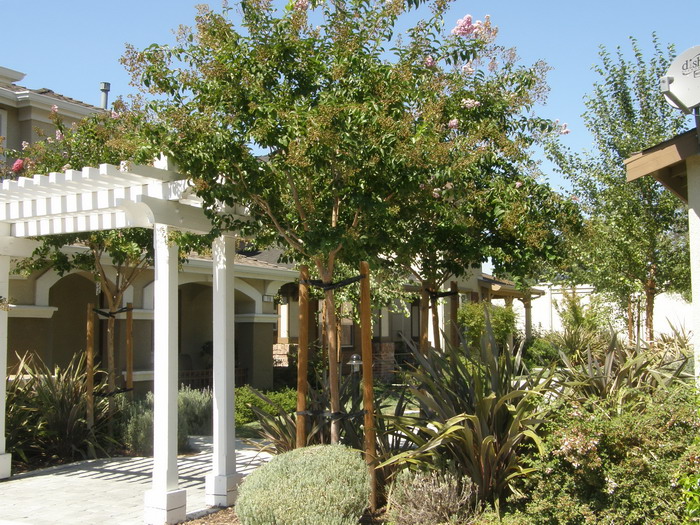 At Stanford Place, urban-infill housing near Los Medanos Community College in Pittsburg, homes face one another across courtyards (above and below right). Some areas, e.g. under the trellis above, have ungrouted, slightly permeable pavers.
Flooding and overflows from large storms are prevented by lawn drains (below left) and buried underdrains.
Stanford Place backs onto Kirker Creek, fenced off in a straightened channel cut much too deep by the flash-flood-like storm flows that are the result of city building. The creek is a sad reminder of the environmental damage that "blue-green building" measures are designed to curb.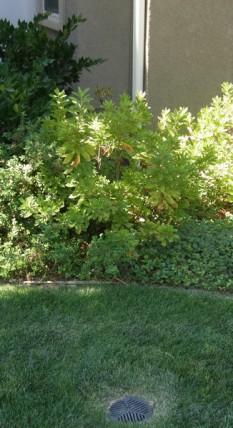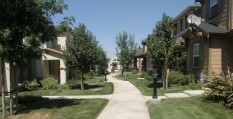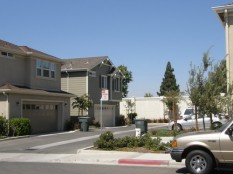 Garages (above right) back onto shared driveways. The arrangement reduces the total paved area.
Click for larger images.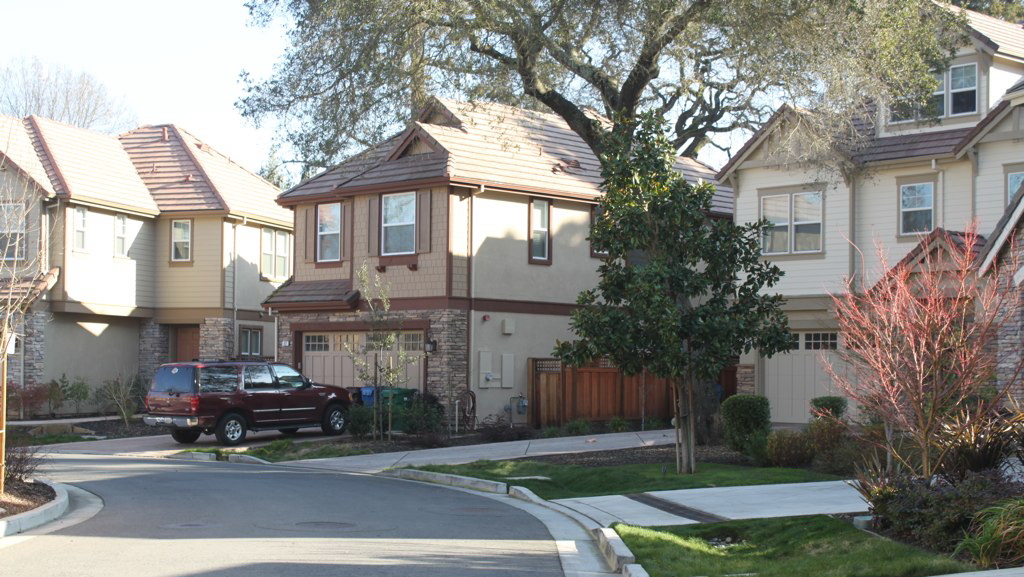 On Paulson Lane, a small infill development on a cul-de-sac just off the freeway in Walnut Creek, narrow streets and small front yards limit the footprint. Runoff is filtered and partly absorbed in swales that continue under mesh inserts in walkways. Below left, a bioretention area on a leftover bit of land at a curved T intersection. Below right, runoff comes from streets via curb cuts and from roofs via pipes. Cobbles at inlets prevent erosion.