El Cerrito Sidewalk Rain Gardens
Sidewalk rain gardens, east side of San Pablo Ave. south of Eureka and Madison, El Cerrito, CA. Map.
Much of San Pablo Avenue in El Cerrito is a busy car thoroughfare with little foot traffic. In two areas, the City of El Cerrito converted part of the wide sidewalk into "rain gardens." The 2010 project was a joint venture with the San Francisco Estuary Partnership, financed with American Recovery and Reinvestment Act (ARRA) "stimulus funds." The sunken planters stretch more than 600 linear feet along San Pablo.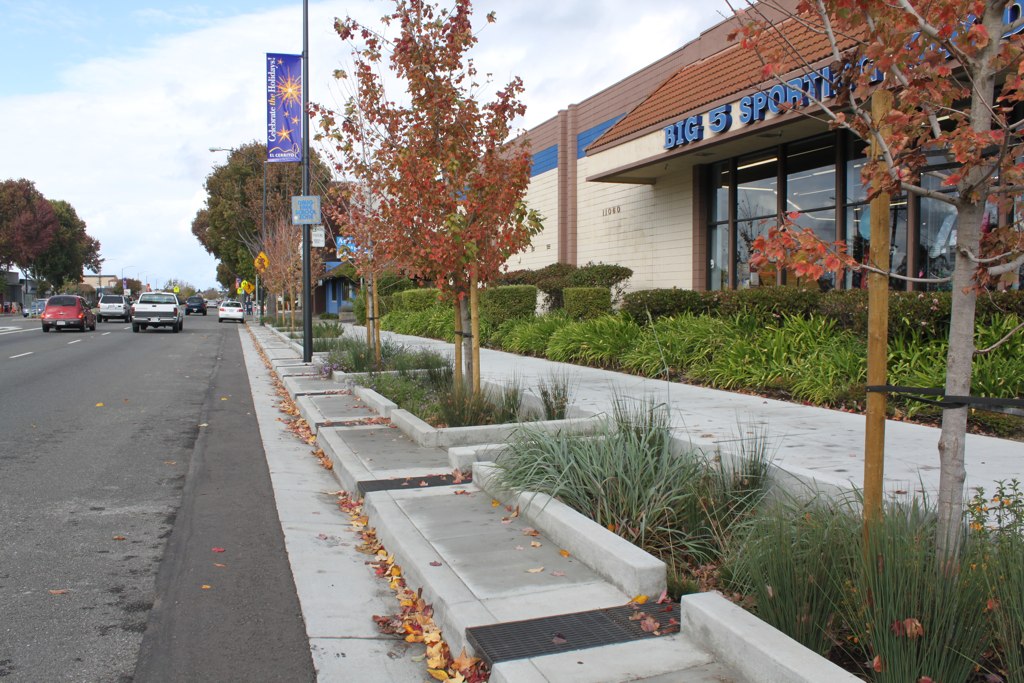 Above and below: south of Madison Street. Street runoff flows to the planters through cuts from gutters. Low curbs at the planters' edged are notched to let sidewalk runoff through. In the sunken planters, water spreads, slows down, and drains through permeable soil underlain by pipes that flow to storm drains. Peak storm flows are reduced, and plants, mulch, and soil help filter out pollution.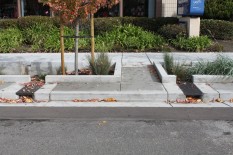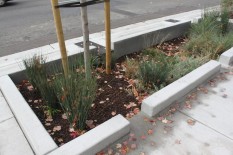 Below, rain gardens south of Eureka. The basins are plumbed with irrigation and overflow drains. Trees are planted on higher ground.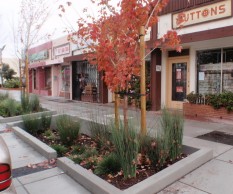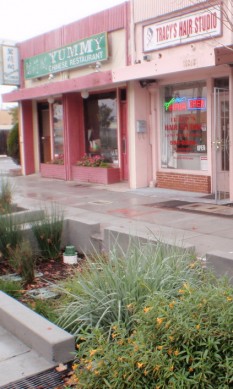 Plans are on the City of El Cerrito's web site here (caution: very large file, takes a long time to download, opens in new window). Specs are also on the city's web site here. For information contact Environmental Services Division Manager Melanie Mintz, (510) 215-4339 or mmintz@ci.el-cerrito.ca.us.