Business near the Bay: Peet's Coffee Roastery, Stacy & Witbeck, VF Outdoor, Alameda; Bayview Industrial Area, Richmond
Peet's, 2001 Harbor Bay Parkway, Alameda Map
Information on the energy-efficient building from Peet's.
Stacy and Witbeck, 2800 Harbor Bay Parkway, Alameda
VF Outdoor, 2600-2901 Harbor Bay Parkway, Alameda
Bio-Rad, Regatta Blvd. at S. 32nd, Richmond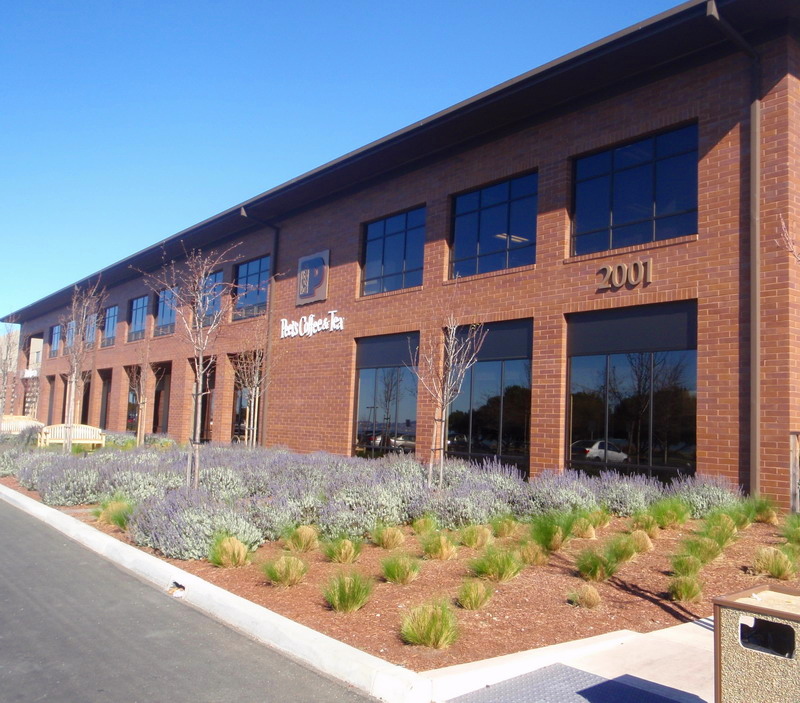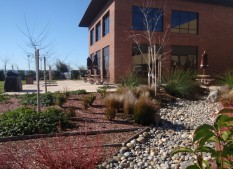 Above, The Peet's Coffee and Tea roasting plant on Alameda's Harbor Bay Island recycles coffee chaf and cocoa bean hulls as mulch for drought-tolerant plantings. Roof runoff drains to landscaping next to the lunch terrace.
Below, Swales filter tunoff from parking lots and truck delivery areas.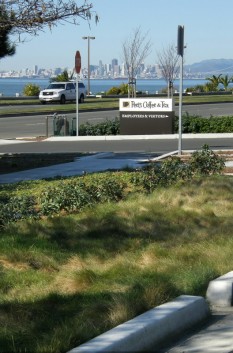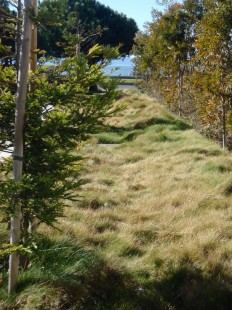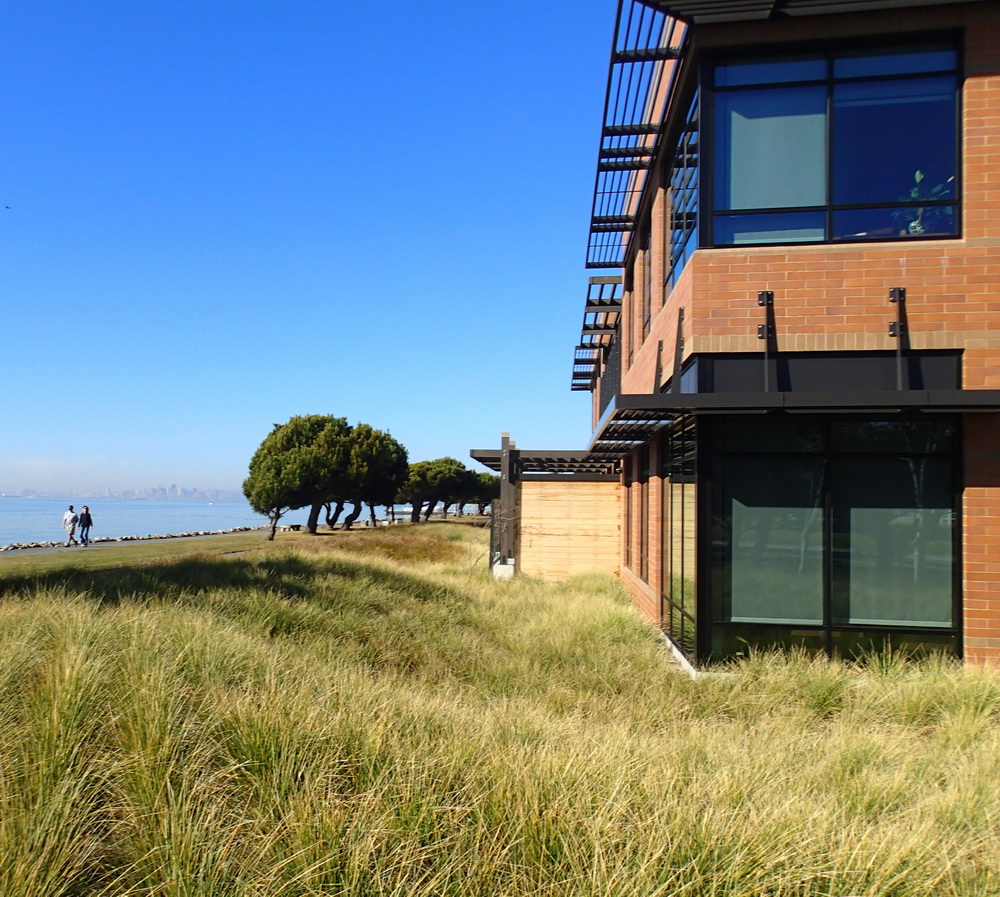 Above and below: Stacy and Witbeck, contractors specialized in building and maintaining rail and streetcar systems, moved into new LEED gold headquarters on Harbor Bay Island's west shore in 2012. Building runoff drains to low areas with raised drains that prevent flooding.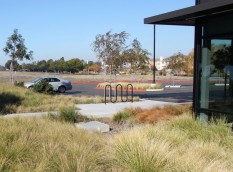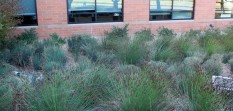 Below: Runoff from the parking lot drains to a bioretention area through small holes that could easily be blocked. The location illustrates an often-missed opportunity: The sunken area will treat pollution from the private parking lot, as required by regulations, but not the much greater pollution from the public street.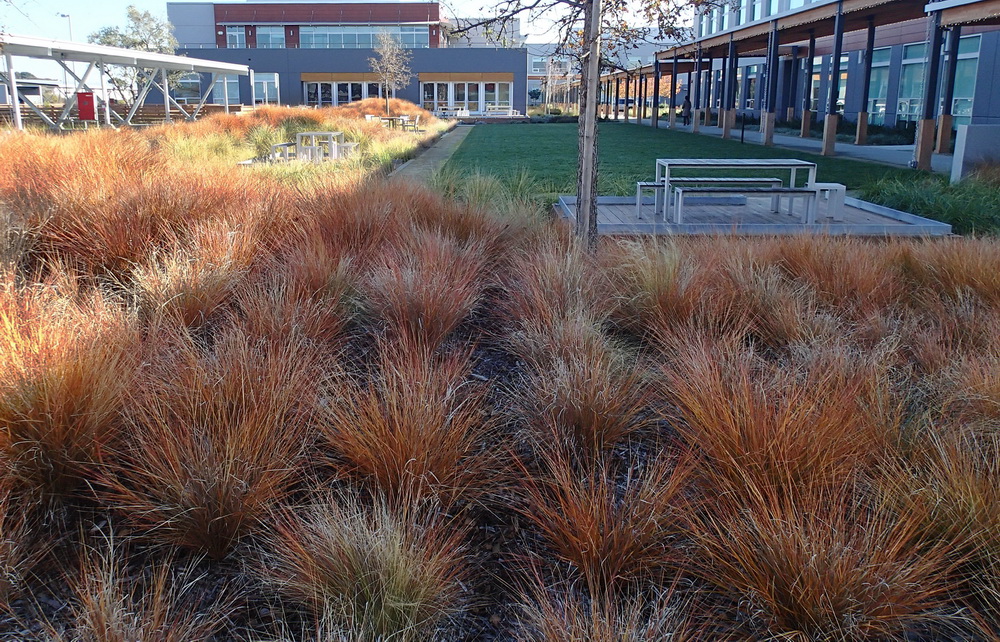 Above: VF Outdoor, makers of The North Face and Jansport outdoor clothing, built new headquarters facing the Bay in Alameda in 2012. Below: Besides treating 100% of its runoff (as the plaque says) the complex uses wind and solar power and offers outdoor meeting places and an organic vegetable garden.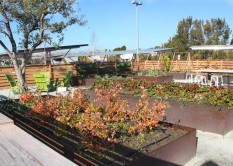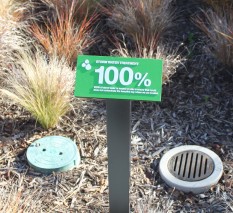 Below: A swale separates the parking area, roofed in solar panels, from inland canals. A low "bioretention" area collects runoff from buildings.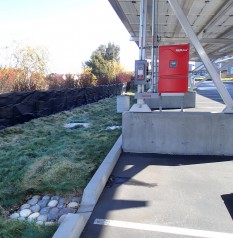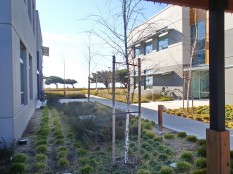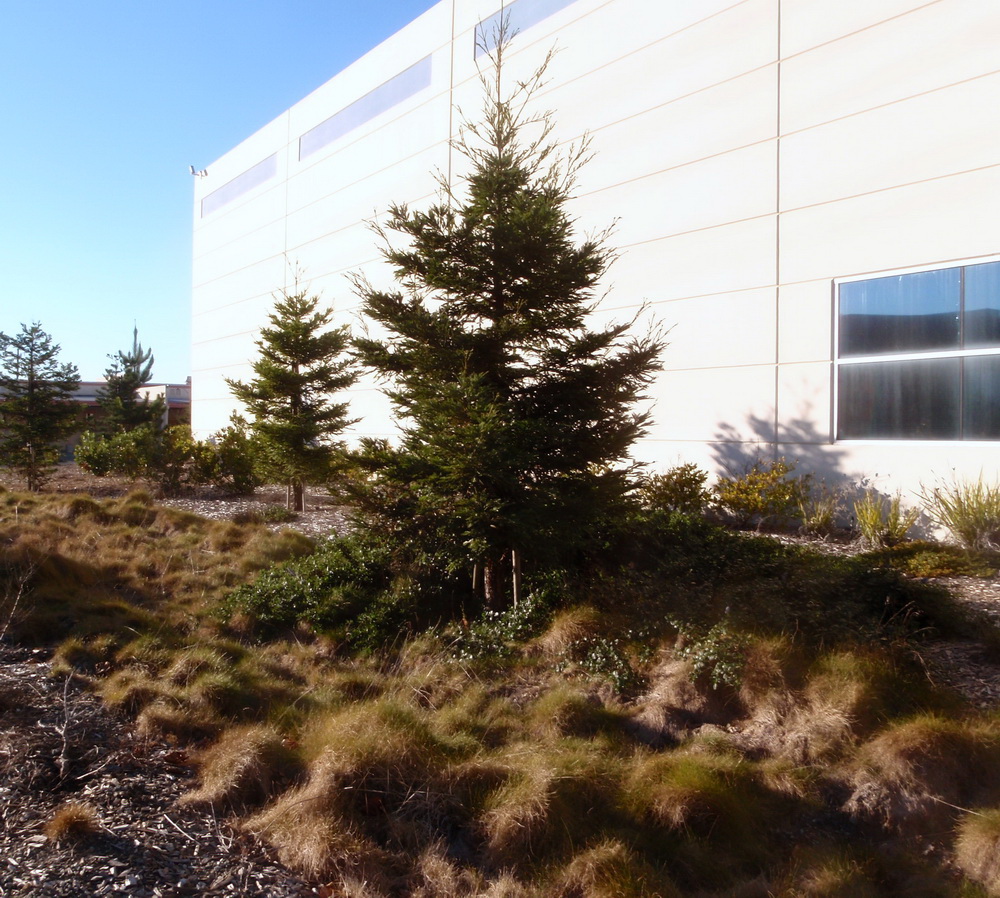 Richmond's Bayview industrial area has sloughs draining to nearby Bay marshes. Above, road runoff at an office-industrial building at Regatta at Meeker drains to grass and redwoods. Below, at Regatta at S. 32nd, a rain garden with colorful, drought-tolerant native wildflowers helps filter runoff from Bio-Rad, makers of laboratory materials and supplies.