Green Street Projects: Albany and Emeryville
Sixth Street north of Harrison, south edge of University Village, Albany/Berkeley border. Map.
Adeline Street, 47th to 40th, Emeryville. Map.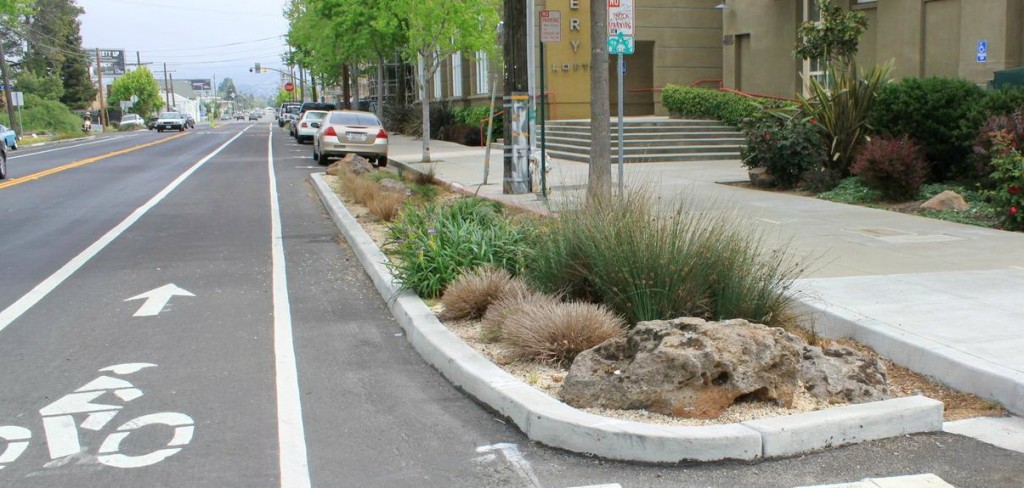 Several East Bay cities are launching "green streets" projects with encouragement from the San Francisco Bay Regional Water Quality Control Board. This is the state agency whose requirements, based in turn on the federal Clean Water Act, lead to most local low-impact-development projects.
On broad Adeline Street in Emeryville, west of 47th Street, "bulb outs" shorten the pedestrian crossings, calm traffic, and provide space for swales and rain gardens that help filter runoff pollution. Above, rain washing from streets enters the inlet to this swale. Below left, the gently sloping swale's drain is far from the inlet. As water flows slowly through the gently sloping swale, some of the gas, oil, and heavy metals that wash from streets will be filtered out, adhering to leaves and soil.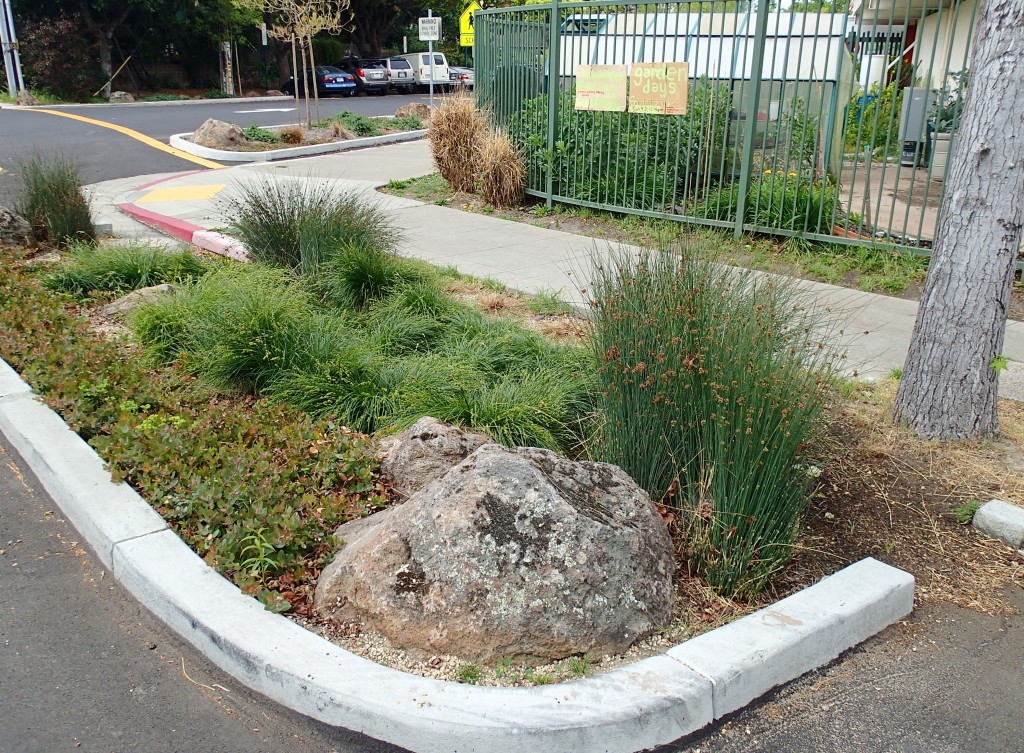 Below: A little over two years after the January 2011 planting (lower right), the varied natives in small rain gardens in bulbouts had settled in; most have flourished.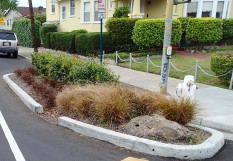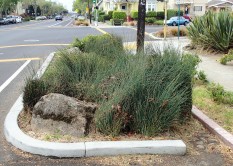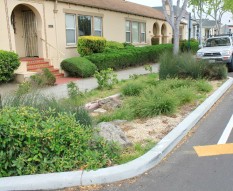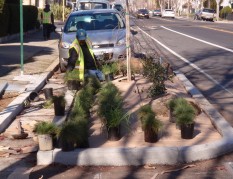 .
Below: As part of restoring a reach of Codornices Creek, a trout stream on the Berkeley-Albany border, street runoff is guided into bioretention areas where some pollutants are filtered out before reaching the creek. The first photo below was taken when the restoration was just finished but not yet open.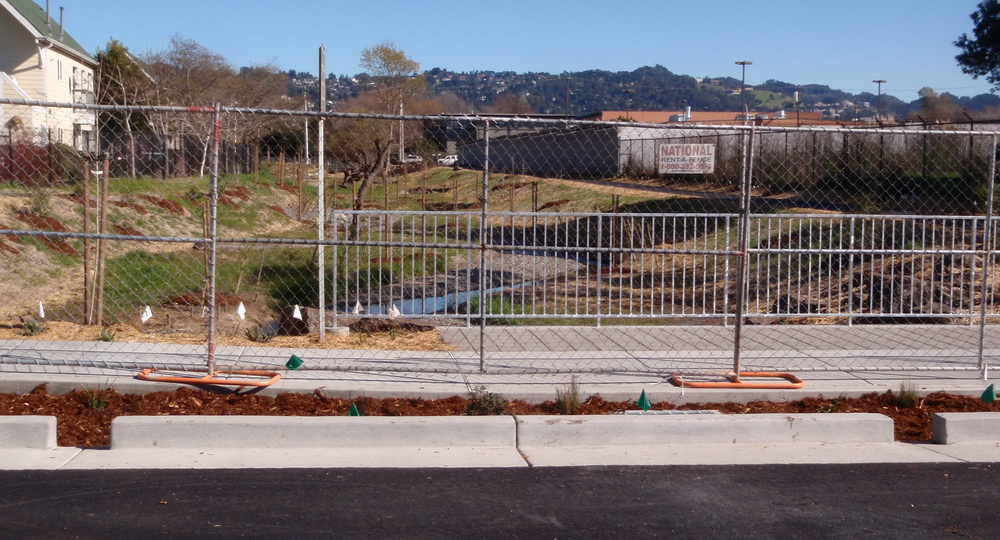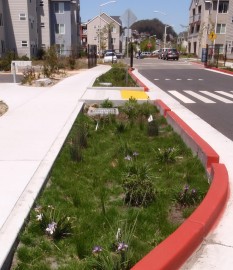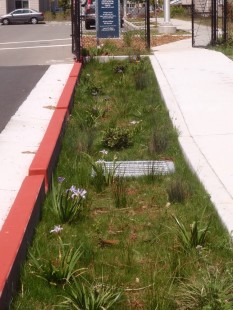 Street runoff from gutters is channeled into bioretention areas on both the east and west sides of Sixth Street at newly restored Codornices Creek. Above, just after planting in early 2011. Below, 2013. Native rushes had grown in so densely that some had to be removed to make room for runoff.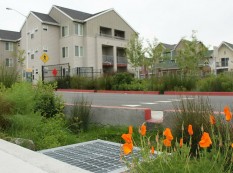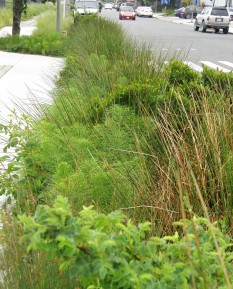 Below, heavy rains can briefly fill the basins, sending water into the raised drain that prevents flooding.
Below, the pedestrian/bicycle path adjacent to the restored creek is permeable asphalt, letting rain soak into soil.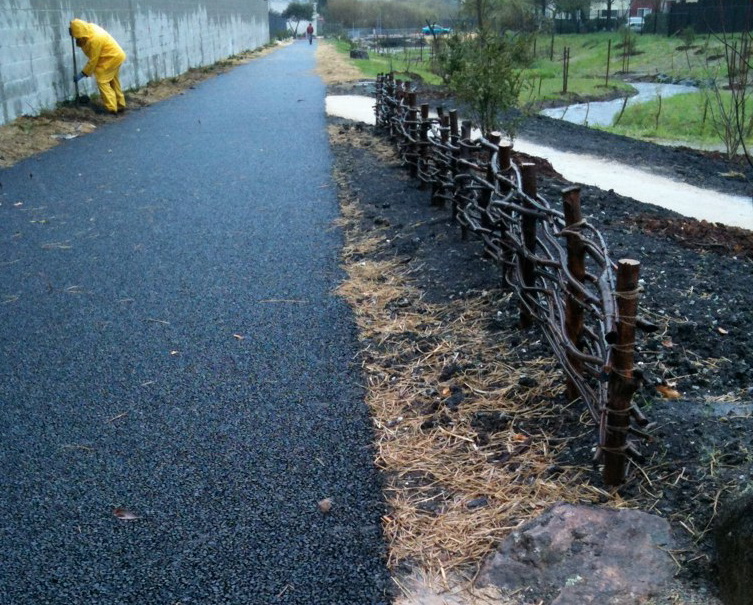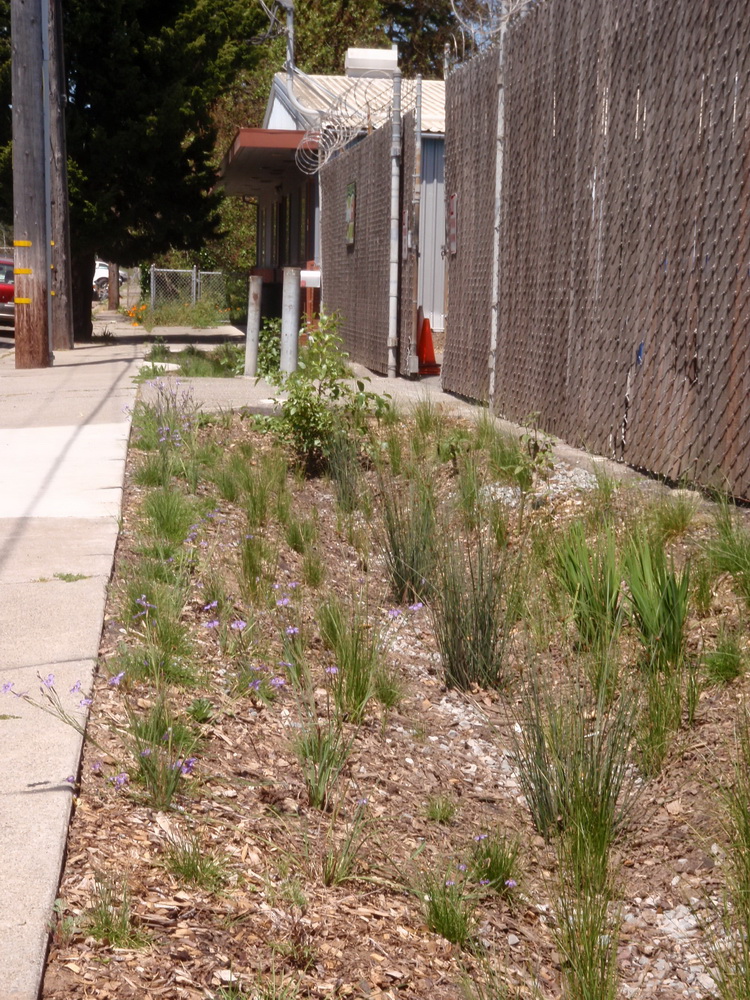 A short distance upstream, at 10th Street, a property owner's voluntary project filters runoff from a parking lot before it flows to the creek. Above, just after planting, in early 2011. Below, 2013, with native wildflowers and trees flourishing.