Pleasanton pond chain
Laguna Creek Lane area, Pleasanton Map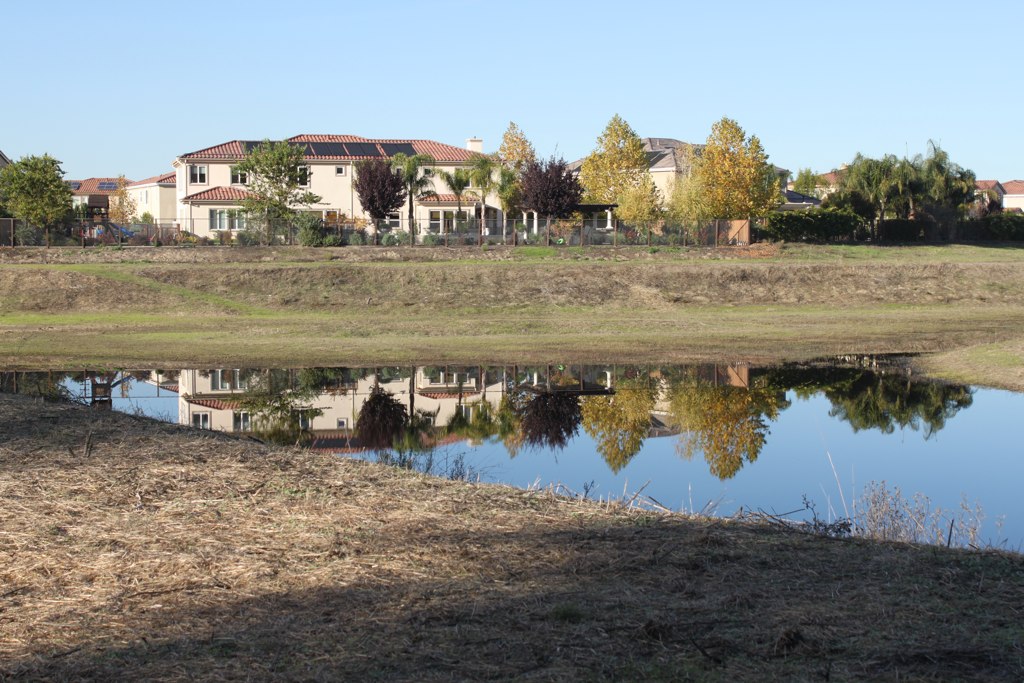 Much of what are now the suburban towns of Dublin and Pleasanton, in eastern Alameda County, was once occupied by huge, rush-filled Tulare Lake (Oakland Museum Map), draining by Arroyo de la Laguna to Alameda Creek. The lake was drained beginning in the 1800s. The channels that did the job are largely fenced-off ditches today.
In what once was an arm of Tulare Lake, Pleasanton channels runoff from burgeoning development into a chain of seasonal ponds.
Mowed and cleared of sediment yearly, the ponds have limited value for wildlife. But children enjoy them, while adults walk and cycle on adjacent trails.
Development magnifies runoff, erosion, and flooding. The ponds slow and reduce storm flows that are causing serious erosion in Arroyo de la Laguna, below.
Left, massive concrete "drop structure" carries water from "Bernal Creek" — itself an artificial channel — to deeply incised Arroyo de la Laguna. The creek once meandered through a marsh well above the top of the structure.
Right, eroded bank of Arroyo de la Laguna. Rock dumped on bank, below, has not halted erosion. Click for larger images.