PERMEABLE PAVING
Click on the thumbnail to see a larger photo.
Click on the text to see the page on the project.


Berkeley: Adult School, permeable asphalt bike trail on Codornices Creek


Walnut Creek: AAA and Varian Headquarters

West Berkeley Office Building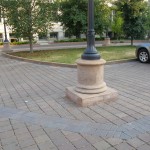 Wellman Courtyard & Botanical Garden, UC Berkeley

Three permeable parking lots

Home gardens: Walkways, patios, planting strips.